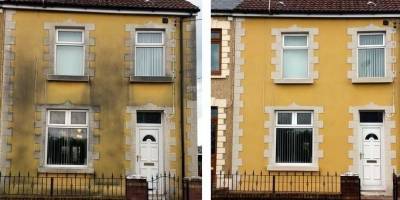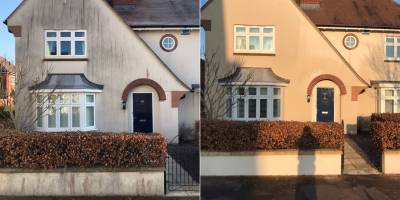 House Render Cleaning
We specialise in the removing of the green, black and red stains from algae and other organic matter from render without the need of high pressure washing. We tailor our cleaning methods to suit each property, using a mixture of softwashing and state of the art super heated water cleaning to achieve great results. We bring the building back to its original bright, clean and as new condition, without the need for expensive repainting.
The photo shows the same house, the before photo on the left and the after photo on the right. The photo on the left is a house heavily stained with black and red algae which caused the occupants some concern.  
This demonstrates just how dramatic the difference can be between a previously dirty building and a building that has been cleaned by Marshall Window Cleaning. We clean all manner of Residential and Commercial buildings, from offices to buildings to domestic houses.